Category: Biography Created on Saturday, 19 November 2016 16:45 Hits: 879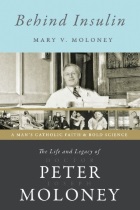 Behind Insulin is the first published biography based on the memoirs of Dr. Moloney.
A well-researched and precious document of Canada's pre-eminent biochemist, it traces his interactions with leading medical men of the 20th century. Encounter him at his Ontario frontier town roots, and follow his path to academic excellence at the University of Toronto. Relive his visits to Europe through his own eyes, and begin to appreciate this great figure, not yet widely know to Canadians.
Dr. Moloney lived through all the advances of immunology as a generous and heroic participant. Devoted father of five, attentive husband, and blazer of a trail to excellence in his field, discover the life of Dr. Moloney and discover the story Behind Insulin.
Please visit lulu.com to obtain your own copy.